Catia Coaching in Indore
Catia is a powerful 3D software tool that is used by all big manufacturing units in the industry to make powerful designs of products ranging from boats, automobiles, fighter planes and submarines to electrical, industrial, electronic, jewelry and clothing. Right from Original Equipment Manufacturers to supply chains or even small-scale independent producers and manufacturers; everyone wants perfect designs from their engineers which are streamlined and validated in engineering credentials in real-time to make sure that the created products are as close to perfection as ever.
Right from product conception to production engineering or even designing tools and the real-time engineering validation of all the designs through step by step analysis and simulation; Catia gives everything to the designers and engineers to come up with flawless 3D designs and this is the reason it is extensively used for fields of CAD (Computer Aided Design), CAE (Computer Aided Engineering) and CAM (Computer Aided Manufacture)
Why should one enroll in our Catia training Institute in Indore?
Catia is the World's Leading Solution for Product Design and Experience which is used by leading organizations in multiple industries to develop the products we see and use in our everyday lives. And this makes the job of an engineer working in the niche a very difficult one and this is the reason a proper and professional training is very important for pursuing a successful career in the niche.
Future Multimedia provides the best courses and programs in Catia designing for individuals to make sure that they do acquire the designing skills and credentials to make big inroads in their professional career at the highest level. Our Catia training institute in Indore has the best faculty in Indore and all of central India to ensure that students get the best exposure and skills regarding the niche throughout the term.
As the the niche involves designing products that people use in everyday life and daily practices, it is important that engineers are trained in such a way that they can be an asset to their firm or organization by creating sophisticated and working designs that are always according to market specifications and expectations and our courses and programs in Catia designing focus on providing just that proficiency for both students and working professionals.
What does our Catia training course in Indore covers?
Our Catia training course in Indore covers all the basic intricacies of the Catia software and that too in a comprehensive manner in an affordable fee structure. We have both short terms and long-term courses for individuals based on the skills that they want to learn and the time they can invest and the version of the software they want to learn or the version that is followed by the company that they want to work within near future (V4, V5, V6)
Our course focuses on detailed skills of the niche like; how to create complex and robust designs, advance Surface Design Tools and its quality & stability along with training individuals in the metrics of Designing and Managing Sheet Metal Parts with advance Sheet metal Options. The Students also learn tips and tricks related to Generative and Interactive Drafting, performing administration tasks and managing all dimensions and annotations in a well organized and proficient manner.
The aim of our institute is to develop exceptional skills in the individuals related to creating their own designs by getting acquainted with the intricacies and user interface of the software through a step by step method coursework that is designed by the best engineers and Catia designing experts in the industry. The students are mentored in topics like; sketching, editing designs and sketches, part modeling, drafting, and product creation or conception.
What to expect from our Catia training classes in Indore?
Our facility maintains the highest level of credentials needed for a skill development academy to function in the right direction right from possessing the infrastructure and neat and clean premises to the availability of experienced faculty and other resources. The spacious classrooms of the premise are well comfy and well-furnished to cater the most absorbing and conducive environment for individuals so as to make sure that they can readily learn and imbibe the essentials skills of the niche through proper mentoring and guidance by our experienced faculty.
We believe in quality and not quantity and this is the reason that only a limited number of students are allowed in a single batch to make sure that highest level of personal attention is maintained throughout the term for each and every individual. The student-teacher ratio of our facility is best in the whole industry as compared to some of the other institutes and skill development academies offering a similar set of courses and programs in the niche.
Our Catia training classes in Indore follow a standard procedure of practical sessions and workshops to make sure that students can maintain a graph of continuous growth and progress in skills related to Catia development throughout the term. The live-project training and industrial training provided by our classes make sure that students can identify their strengths and weaknesses and then work on them accordingly for achieving a 100 percent success rate in job and placement credentials till the end of the term.
Get certified now:
You can also join the league of hundreds of extraordinary and successful aspirants all over the world that have chosen to give wings to their professional career as Catia developers or engineering professionals by enrolling with our various Catia development courses and programs and gain exceptional proficiency in creating and maintaining flawless 3D designs to add to your engineering career resume at the end of your term. The Catia certifications of our academy are well recognized all around the industry and can give one absolute skill and proficiency in pursuing a career in the in the niche as a Catia developer or engineering professional.
Catia Training
Duration - 60 day's
Course Content of Catia Training in Indore
Catia V5 Mechanical Design Introduction

Review the User Interface
Catia Workbenches
Part Design Workbench
Assembly Design Workbench
Generative Shape Design Workbench
Importance of Parent/Child Relationships
Investing the Model
What is Define in Work Object?
Defining in Work Objects
Organizing a Solid Model
Model Organization
Geometrical Sets
Ordered Geometrical Sets
Hybrid Design

Parts Design

Design Intent
Create Advanced Sketch-Based Features
Multi-Sections Solid
Create Advanced Drafts
Advance Dress-Up Features
Use the Multi-Body Method
Create Multi-Model Links

Hints and Tips on Generative Drafting

Generating Specific Views
Creating a Section View/Section Cut with a Profile Defined in
Update Management
Auto-Dimensioning
Advanced Filtering Techniques
Balloons Creation

Drawing Generation of Large Assemblies

General recommendations
Approximate generation mode

Administration tasks

About Standards and generative View Styles
Administration of Generative View Styles and Standards
Setting standard parameters
Setting standard styles
Setting Generative View Styles
Administration Settings

Increasing Productivity

Generating Hole Dimensions Tables
Creating Point Coordinate Tables
Creating Tables

Creating Frames and Title Blocks with a Macro

Defining Frames
Filling in the Title Block
Surface Design

Access the Surface Design Workbench
Create the Reference Geometry
Create the Basic Surface Geometry
Create the Complex Surface Geometry
Solidify the Model
Perform Operations on Surfaces

Assembly Design

Manage the product structure
Create flexible sub-assemblies
Analyze the assembly
Create scenes
Create annotations
Generate reports

Bends and Unfolded Mode

Bends
Unfolded Mode
Corner Relief

Flanges

Creating Flanges
Recommendations for Flanges

Sheet Metal Features

Cutouts
Holes and Circular Cutouts
Corners and Chamfers
Standard Stamps
User-Defined Stamps

Transformations and Duplication

Transformation of Parts
Patterns
Mirror
Power Copies

Mapping and Output

Point or Curve Mapping
Output

Advanced Topics in Sheetmetal Design

Sheetmetal Standard Files
Multi-Body Methodology

Hints and Tips on Interactive Drafting

Accessing the Workbench
Toolbars Description
Dress Up Commands
Dimension Commands
Text Commands
Contextual Design

Clarify the display
Create Contextual Parts
Create Assembly-Level Features
Manipulate the Contextual Components
Save the Contextual Models

Complex Assembly Design

Create a Skeleton Model
Create the Published Elements
Use the Published Elements

Introduction to Surface Design

Surface Design Workbench Overview
Managing Features and Geometrical Sets
Geometrical Sets – Recommendations

Creating Advanced Wireframe Features

MD2/GSD Wireframe versus HD2/GSD Wireframe
Creating an Extremum
Creating a Connect Curve

Creating Advanced Swept Surfaces

What is Swept Surface?
Inputs for Sweep
Creating a Swept Surface
Creating an Adaptive Swept Surface

Creating Advanced Blending Surfaces

What is Blend?
Types of Blends
Creating Fillets using Hold Curve and Spine
Creating Fillets using Law
Creating a Blend Surface
Blend Surfaces Recommendations

Additional Surface Design Tools

Improving Geometry Stability
Improving Geometry Quality

Getting Started

Introduction to Sheetmetal Design
Generative Sheetmetal Deign Overview
Defining Sheetmetal Parameters

Sheetmetal Walls

What is Sheetmetal Wall?
Defining the First Wall
Secondary Walls
Part Recognition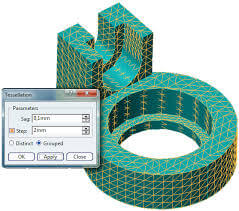 Our Industry ready courses
Future Multimedia Offers 40+ Job Oriented Courses Discover the Best Course that Suits You