Web Design Master (WDM)
Duration - 10 Month's
This course curriculum is a complete solution to the design, creation, promotion, and maintenance
of the web pages and web sites. With it, you will learn how to critically evaluate web site  quality,
learn how to create and maintain quality web pages, learn about web design  standards  and  why
they're important, and learn to create and manipulate images & latest technology in web designing (web 2.0, web 3.0, site for mobile, flash site etc.).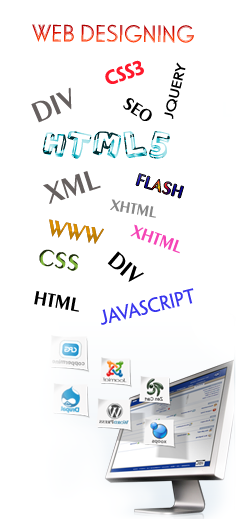 Course Content

Adobe Photoshop (Ui Design)
Adobe Illustrator
Adobe Flash (flash site, e-learning, game etc.)
Action Script
Adobe Dreamweaver
DIV
HTML5
CSS 3
XHTML
DHTML
JavaScript & JQuery
SEO (Search engine Optimizations)
Responsive web Design
Bootstrap
web Design for Mobile
wordpress (cms)
FTP / Domain Registration
Hosting / Uploading web site
Website Maintenance and Updation
Live Projects
Web Site customizations
Solving Browser Compatibility Issues
Portfolio Development
industrial Training

Career Options

Web Graphic Artist
Layout Artist
Ui Designer
Web Designer
wordpress designer
Flash Designer
Action script Programmer
E-learning Content Designer